* Last edited 07 Dec 2007
Doomsday is coming real soon - in 4 weeks time (minus c'mas week), i only have 3 weeks left and i have to get my project DONE by then.. from week 6 onwards i'll be doing modifications and enhancements on my project... n helping out for the stupid open house.. wtf? pleaseee tell me i'm a genius? no? then i'm so dead.. wish me luck!
Back to the bright side. If i can really get most of it done by then it'll be better.. actually i wanted to get things done by then too.. but i'm too lazy to start now! I need motivation! My supervisor actually asked me just now whether i'll be going back to msia for cny. haha.. i'm glad he asked cos i intend to skip class for 3 days during that time.. it's a good thing he knows in advance now (: he even asked whether i've booked my air ticket yet and asked me to do so.. ok lah.. he's quite nice! lolx..
I feel like a bird. trapped in a cage. :(

Jay Chou Begins Hong Kong Concert

5 December 2007
Emma Lam - batgwa.com

Taiwanese superstar Jay Chou (周杰倫) began the Hong Kong leg of his world tour this evening with the first of seven concerts at the Hong Kong Coliseum.On stage, the star showed off numerous outfits and also showcased his true musical talents, singing as he played on a perspex piano and jamming with the band on his guitar.

Fei Yu Ching (費玉清) was the guest performer at the first show and the names appearing at other shows will include Andy Hui (許志安), Yundi Li (李雲迪), Twins, Alan Ke (柯有倫) and Eason Chan (陳奕迅).

A blessing ceremony was held for the crew before the show started, but as Jay is a Christian, he did not make an incense offering and watched the ceremony from one side, wrapped up in a scarf and a coat.

Stalls outside the hall sold a variety of souvenirs, among which were clothes that were jointly designed by Jay and Eric Kot (葛民輝). However, the HK$3,700 price tag for the complete set did not go down very well with the fans.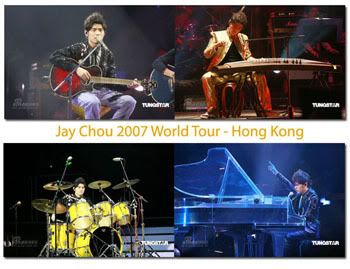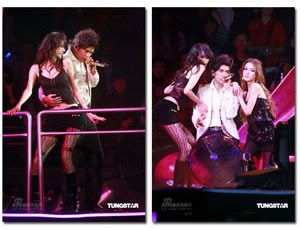 * feel like killing the girl.. argh
Lucky HK fans. OMG! Jay+Yundi is like... ultimate piano performance? i wished i was there.. :(